"Your Health. Our Passion."
We offer a variety of services to help you along your journey throughout your life. We take great pride in being able to provide you with services that will be best for you and your health and wellness needs. 
View Services
ATA Healthcare Wellness is locally owned by Dr. Mohammed Alhezayen, and is located in the heart of Frisco, Texas.
Dr. Alhezayen is a board-certified Internal Medicine provider. He is experienced in both inpatient and outpatient medicine. Dr. Alhezayen followed in his father's footsteps, becoming one of the youngest physicians in his class. He decided to open ATA after many of his hospital patients wanted to continue their care with him. He named the clinic respectably after his father, Dr. Ata Alhezayen, now a retired physician.
Dr. Alhezayen is a strong patient advocate, which led to his vision of opening this clinic to provide a multitude of one-stop services to his patients after multiple requests. His vision has always been to provide quality, affordable care to every patient and to treat each patient as though they are family… Read More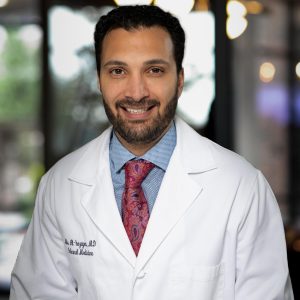 Taking Care Of All Your Needs!
We Make Your Health & Wellness The Priority!
We want to look at the entire picture and this is why we offer so much for you. Figuring out what makes you live a better life is our goal.  
Chronic Disease Management
Our state-of-the-art medical services are combined with our professional team to create an optimal experience for all of our patients. The wide arrays of services available are performed by Dr. Mo Alhezayen and his staff. 
With the availability of these capabilities in our clinic (and not at a third-party facility), allows us to provide you with quicker diagnosis and treatment – often while your being examined.
We understand what an important decision you face when choosing healthcare for the members of your whole family. We are the solution for all your family's health and wellness needs. Whether it be a wellness physical, the common cold, allergies, or even healthcare needs for the senior members of your family, we are here to serve all your healthcare needs.
As we get older, many of us just blame it on age when we fatigue easily or put on weight that's hard to get off. Some of us suffer from insomnia, irritable bowels, dry skin, and hair loss. And then there's the drop in our libido as if as we get older, we're just not that interested in sex anymore. 
our time is valuable. It is our goal to get you in and out quickly and efficiently and have you back on the road, earning money for you and your family. We are proud to offer examinations on the same day you call to make an appointment.
Laboratory tests check a sample of your blood, urine, or body tissues. A technician or your doctor analyzes the test samples to see if your results fall within the normal range. The tests use a range because what is normal differs from person to person. Many factors affect test results.

"Amazing office and staff! Extremely helpful, knowledgeable, and caring! Took great care of my Fiancé and showed compassion and professionalism while treating him. I definitely recommend this office! Lynsey and Jolene were exceptional as well as the Front desk staff. We appreciate y'all!"
Jessica

"A wonderful place!! The staff is amazing and listened to me and truly cares about actually helping me!! This place did NOT disappoint and I trust Dr. Mo !! Thank you to all of you for making me feel so welcomed and I truly felt like I mattered !! Awesome experience!"
Kristy

"The clinicians here are fantastic especially Jolene however from start to finish between scheduling and insurance authorization and payment and Telehealth, my visit could not have gone more smoothly. All of my questions were answered and any follow-up was prompt when results were available. I cannot recommend them enough. Love them"
Ruth

"I love this place. The staff is so friendly and helpful. Jolene listens to you gives you options and lets you choose what you want to do. Not just fill out a prescription and send you on your way. Feel so much better after my visit. I am not a fan of going to the Dr, but I have to say I can't wait to go back to ATA"
Lisa
Discover how to keep your health optimal with our articles, videos, and free content to better help you. 
MON – FRI
8:00am – 5:00pm

Drop Us a Line
Don't be shy. Let us know if you have any questions!